In 2017, I had the distinct pleasure of being chosen as the Chef d'Equipe (or Team Coach) for the United States Hunter Jumper Association (USHJA) Zone 9 Jumper Championships. This involved 4 days of watching horses and riders from Zones 9 and 10 compete in the meter 1.10's through the 1.35 divisions both as individual competitors as well as members of their respective teams. It was an incredible weekend, which was hosted by HITS Horse Shows of Thermal, CA. as part of their Sunshine Series.
When I was originally asked to participate, I already had some background with this event, having assisted Oregon-based Grand Prix rider Jeff Campf in the originating years, sending communications to team members and organizing team gear and other items pertaining to the show. I was not able to attend the show that year, but it was a glimpse into the beginning of a program whose idea was to give riders an opportunity to experience a Nation's Cup format, without necessarily having the horse or experience to do so at the National level. This program spoke to me, as a rider who has always dreamed big, but whose circumstances had meant small, baby like steps in terms of achieving those lofty goals. The opportunity for more levels of riders to experience the excitement and pressure of that type of event pulled at my heart strings as a hopeful rider, while at the same time appealed to me as a trainer who was looking for opportunities for clients to ride and participate in classes that would give them needed experience if they were to move up the levels in our industry.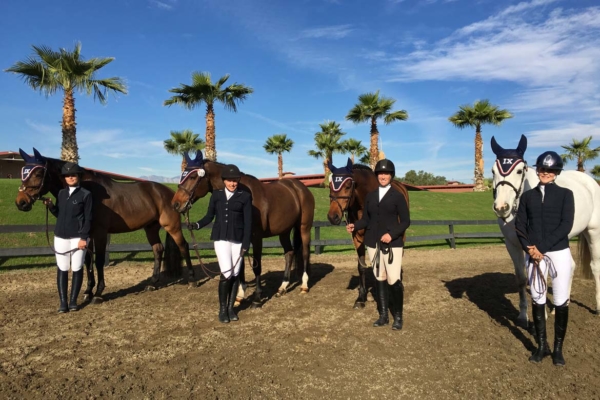 There were many aspects of "Chefing" that were unspoken – as well as unguided. There were no handbooks explaining all that went into being a Chef, or even what the end goal of the weekend would be. I found myself a bit dismayed heading into the show, as I felt woefully underprepared. However, upon arrival, I found great guidance from former participants – both riders and trainers, who wanted to see the program succeed, and, what proved to be a slow start, snowballed into a fantastic Zone 9 Welcome Party, piles of notes about how riders and horses performed, hours of sitting on metal benches and taking the time to greet each horse and rider along way – wishing them good luck and offering assistance. We sent out Zone 9 emails, did an Instagram Story and took photos, all of which we sent along to riders as mementos of their weekend, and, in return, received emails, texts and smiles of gratitude, which proved to be the highlight of the weekend.
What struck me most, in the experience, was how excited everyone was to be able to participate in the event. We, as a collective, participate in a very individual sport. At the end of the day, our results are our own, combined only with a silent partner – there is no "Team" in what we do on a day to day basis, and every class is a competition with our fellow riders – friends or not. We ride our own horses, manage our own courses and have singular relationships with our good days and bad. Family and fellow riders can relate, but, at the end of the day, we are responsible for only ourselves. Although, this remains true while on course, there was an extra added element of "The Team" during the weekend competition. Riders spoke up for one another when they were concerned for each other's well being. Riders who were normally fierce competitors now looked upon each other as assets, and without fail Zone 9 riders sat in the seats, checking on how the other Zone 9 teams did, with exclamations of happiness for good rounds, and understanding for ones that didn't go as planned. Riders walked away knowing each other better and appreciating how important each of their rounds were to the team effort. There was a sense of pride in their own Zone, which was small, but mighty. Riders who suffered bad rounds, came back, chin up and ready to perform for their team. Tears were kept to a minimum, and hugs and happiness was in large supply.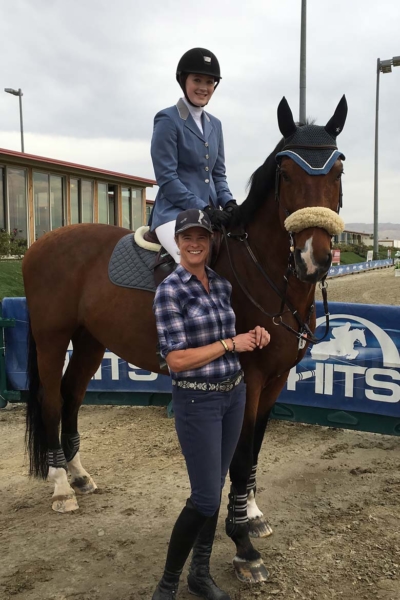 As a competitor, I enjoy sports in general. Not just my own, but the excitement sports bring into the world. Cheering for your team, cursing the "other guy", wearing Home Team colors. I love my sport – I love the fact that when I enter the ring it is me, my horse and the elements. I enjoy being responsible to myself and my equine partner, but it can be lonely out there and, the team opportunity, brought a new energy to the sport for the weekend. It gave riders a sense of what riders in the highest level of our sport experience, as well as what other sports take for granted – a team of equals.
By providing a "team experience", we strengthen our horse community. At home and shows, I have always tried to foster the idea of "Team Sundance" – encouraging riders to watch and cheer for their barn mates – celebrating other peoples' wins, even if that meant they beat you. By getting excited about other rounds, it takes the pressure off the need to win each time you step into the ring – maybe today wasn't your day, but tomorrow may be, and having the chance to cheer – or commiserate – with fellow riders, means more fun. Every rider has a bad day. Every horse decides, today isn't your day. When we step out of our Individual Bubble, and start watching other riders, we learn that we aren't the only ones who struggles with fear and doubt. That everyone loves to win, but most of the time you don't, and finding a strong and supportive community aspect, in a "lone wolf" sport, lengthens your time in the industry. There will still be those moments where you may feel alone in your world, but the reality is, at the end of the day, we are all struggling with the same issues – regardless of our level of achievement – bringing it together as a team, highlights that at the end of the day we share more in common then we have differences, and that cheering for the guy who beats you, doesn't actually mean you don't want to win, it just means that today is his day – tomorrow he will be cheering for you.
For riders who are interested in participating in this event, know that it is a challenge. Come prepared to ride at the top of your game, and to go into the ring, no matter what. Your team is counting on you, just as your horses is, to step up and perform at the best level you can. But accepting the challenge is a fantastic opportunity to do just that. To challenge yourself, to get excited for your team, and to go home a better and more experienced competitor. And for the Chef's – the same goes to you. Bring your Team Spirit, as it should be about more than just assigning orders of go. It's about creating a cohesive team experience for all your riders. For cheering them on when they are amazing, and commiserating with them when they aren't. You are responsible for setting the tone for your teams, so bring your "A" game – your team deserves it, and you will all walk away winners in the end.