TAILORED TRAINING WHERE FUN AND LEARNING MIX
Sundance Equestrian offers personalized boarding and training services for the Seattle-area hunter-jumper community. We provide training for both the horse and rider looking to compete and have fun in a friendly, team-oriented environment.
Conveniently located in Woodinville, Washington, Sundance draws riders from the around the Puget Sound region, including Redmond, Bellevue, Seattle, and Issaquah.

Our training program was developed by Katherine Wade-Easley, incorporating techniques and concepts developed over a lifetime of riding, instructing, and the study of proven equestrian methods. A United States Hunter Jumper Association (USHJA) Certified Trainer, Katherine upholds a high standard of quality for both herself and her staff, with an emphasis on continuing education and the welfare of the horse.
Katherine and her team work with everyone from the beginning horse and rider to the those showing and competing on the "A" circuit. We emphasize a "team approach" in lessons and at competitions, with the goal that every student have a positive, supportive experience. We are proud that Sundance enjoys a reputation for being a warm and welcoming environment.
If you're interested in lessons, bringing your horse in for training, or looking to buy or sell a horse, please feel free to contact us to set up a time to tour the stables and get to know more about us.
Sundance owner and head trainer Katherine Wade-Easley, assistant trainer Danika Green, and their staff are committed to your successful experience.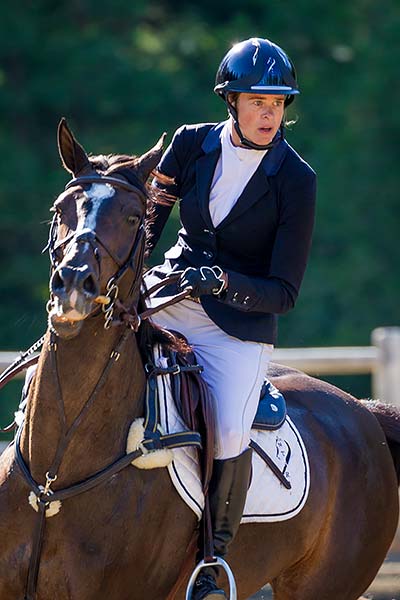 Katherine Wade-Easley
Owner & Head Trainer
A native of Western Washington, Katherine is a USHJA Certified Trainer and has competed successfully in numerous grand prix events and International Hunter Derbies. As owner of Sundance Equestrian, Katherine enjoys watching her students and horses succeed on the show circuit while sharing her love of the horses, learning, and a passion for riding. Katherine is very active in the sport, and currently sits on the USHJA Zone 9 Hunter/Jumper Committee, and in 2017 was chosen to be the Chef de Equip for the Zone 9 Championship Children's/Adult Jumper Team. When not at the barn, Katherine enjoys running, surfing (poorly!), hiking, and spoiling her dog, Shooter.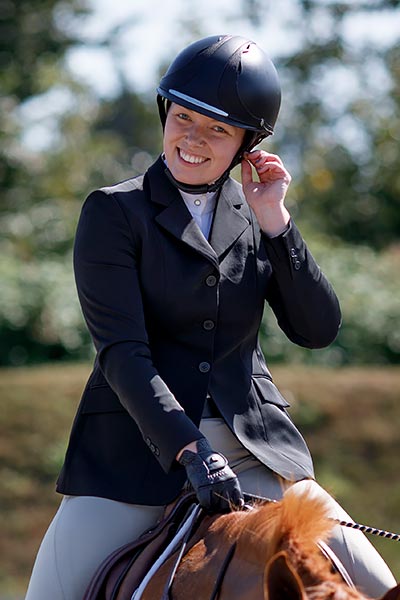 Danika Green
Assistant Trainer
Danika started her competitive riding career early as a working student for several Northwest barns before coming to Sundance in 2009. As of 2013 she became Assistant Trainer, and now manages both the Barn and the Lesson Program, including the current Working Student Program. Danika has competed through the 1.20's and has volunteered her time at the local "A" rated shows, working for both the Washington State Hunter Jumper Association (WSHJA) and Cascade Horse Shows Management Teams. She pursues her continuing equestrian education by riding in and auditing numerous clinics, including the George Morris clinic in 2017. In her spare time, Danika enjoys avoiding running with Katherine, taking naps, and drinking coffee.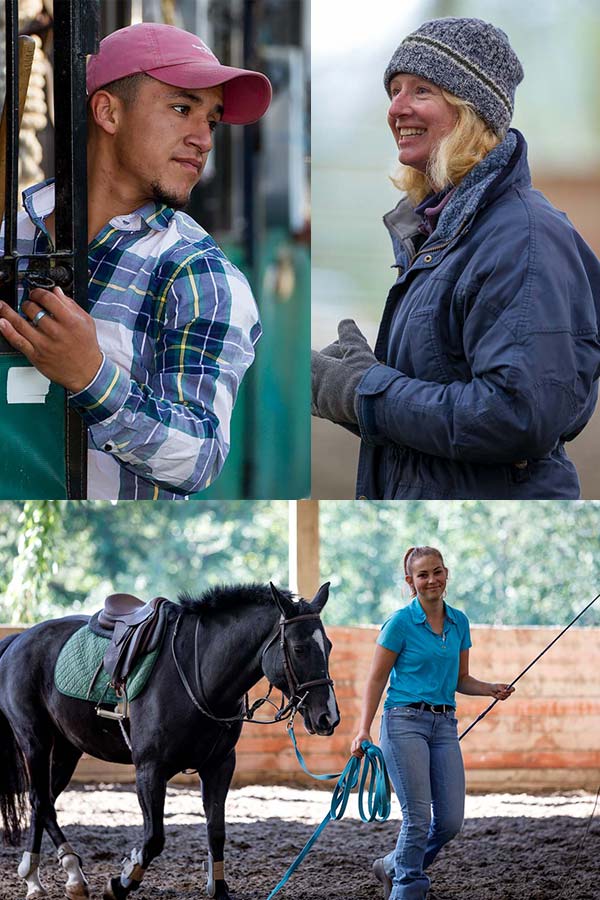 Our Extended Team
Staff, Guest Clinicians, Show Support
Sundance has a terrific support network that helps keep the barn running smoothly and makes our shows more successful, including our talented show grooms, top-ranked guest clinicians, farriers and vets, and of course, our own working students that lend their time and energy to support the sport they love. Pictured clockwise from top left: show groom Obed Mendoza, guest clinician and top Grand Prix competitor Jill Blunt, Sundance Working Student Lizzie Wright-Richards.
OUR FACILITY
With a 12 stall barn, Sundance Equestrian is a boutique facility dedicated to a one-on-one personalized approach. This allows us to offer a positive place for learning and enjoying your horse and the people around you, and to maintain the highest level of cleanliness, safety and care. Our facility includes:
A covered 156' by 80' sand and felt arena, with MAG added to the footing for our horses comfort and well being.

12 x 10 thick, rubber-matted stalls, with skylights in each stall as well as over the arena and aisle way. Large windows in all stalls provide a very "open" feel, even when the horse is inside.

Tack room, with individual hooks for each horse.

Daily turn out for horses in individual paddocks – including year round dry areas.

Daily stall and pasture cleaning program. Horses receive a tailored regimen of grain and supplements, including Timothy hay 3 times daily, with monthly hot bran mashes, extra salts and minerals, and abundant fresh water. Our horses' comfort and well being is important.

Convenient wash stall with hot water.
At Sundance, we know that each person has a different ambition for their riding. We'll meet you at where you are today, and help you get to where you want to go. We'll always be up front, work in your best interests, and respect your individual journey.